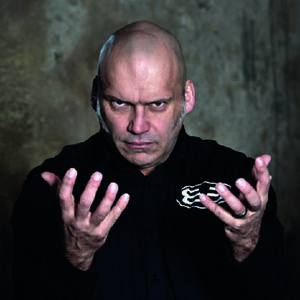 Blaze Bayley
Special guest
Blaze Bayley Discography:
1985-1995: WOLFSBANE
Releases:
(1985) Clutching at straws (Single)
(1988) Loco! (EP)
(1988) Wasted But Dangerous (EP)
(1989) Shakin' (EP)
(1989) Live Fast Die Fast
(1990) All Hell's Breakin Loose Down At Lttle Cathy Wilson's Place (EP)
(1991) Ezy (EP)
(1991) I Like It Hot (EP)
(1991) Down Fall The Good Guys
(1992) After Midnight (EP)
(1994) Wolfsbane
(1994) Everything Else (EP)
(2011) I Did It For The Money (EP)
(2011) Wolfsbane Save The World
1995-2000: IRON MAIDEN
Releases:
(1995) The X-Factor
(1996) Best Of The Beast
(1998) Virtual XI
2000 - 2007: BLAZE
Releases:
(2000) Silicon Messiah
(2002) Tenth Dimension
(2003) As Live As It Gets
(2004) Blood And Belief
2007 - present: BLAZE BAYLEY
Releases:
(2008) The Man Who Would Not Die
(2008) Robot (EP)
(2009) The Night That Will Not Die (live)
(2010) Promise And Terror
(2012) The King Of Metal
(2013) Russian Holiday (EP - feat. Thomas Zwijsen)
(2013) Soundtracks Of My Life (Best Of)
(2016) Infinite Entanglement
(2017) Endure And Survive - Infinite Entanglement Pt. II
(2018) The Redemption Of William Black - Infinite Entanglement Pt. III
(2018) December Wind (EP - feat. Thomas Zwijsen)
Blaze Bayley has been a guest on 1 episode.
December 21st, 2018 | 57 mins 18 secs

blaze, blaze bayley, heavy metal, iron maiden, wolfsbane

The guys have a conversation with singer/songwriter, solo artist, front man of Wolfsbane, and former lead singer of Iron Maiden... Blaze Bayley. They discuss his time in Maiden, his current solo projects and Blaze's place in the Iron Maiden legacy.